Planning and installation
Realizing a Tropf-Blumat-system
A certain amount of planning is required in order to put together the necessary components. First of all, the following options must be considered for the water connection:
A: PRESSURE REDUCER
A pressure reducer on the faucet is a system component that reduces the pressure to 1 bar from max. 6 bar (standard device, different pressures available upon request). This means that 250 drip locations over a length of approx. 60 m of supply hose can be supported; if the connection is central, then each side can support 250 drip points. The drip locations can be situated 4 (6) m higher than or 3 m below the pressure reducer. Connections: ¾ inch inner threading for the faucet + direct connection to the supply hose with opposing clamps.
The water faucet is kept open during the growing period; in the winter, the pressure reducer must be stored frost-free.  If the faucet is accidently turned off (for 1 day or longer), then the Tropf-Blumats have to be refilled; first water the plants thoroughly! A three-way distributor is often mounted between the pressure reducer and the faucet in order to enable further connections to the tap.
B. ELEVATED TANK
With the elevated tank or container, pressure is generated from the static water column. Optimal would be the pressure resulting from a height difference of 200-300 cm or more, which is rarely given – hillside, garage roof, attic. The minimum between the Tropf-Blumat and the water surface is 70-100 cm, function is no longer ensured by less than 50 cm.
Too low-pressure results in an inadequate water supply and possible blockage in summer due to air bubbles that are not further transported. 
A water column of approx. 100 cm can supply 30 Tropf-Blumats over 20 m of supply hose, or alternatively approx. 40 Tropf-Blumats using a 10 m supply hose. Increasing distribution to support more drippers requires a higher water column (more pressure) or a larger supply hose (½ inch garden hose) or dividing over several supply hoses each with a separate connection to the tank.
The size of the container, the resulting weight, and the connection often present difficulties. Tip: a stable shelf brings height and storage for the container. A minimum size is about 20 liters – determine the possible amount needed by watering by hand before!
In addition, the container should be dark to minimize algae, and the opening must not be too small, allowing for assembly and cleaning. 
C. PUMP
Dispersing using a pump is possible, but only under the condition that there is constant water pressure in the Tropf-Blumat-System, with the exception of short interruptions.  Suitable for this purpose is a domestic water supply together with a diaphragm tank as a pressure cushion and a pressure switch that switches the pump back on in the event of a decrease in pressure. For Blumat systems, these pumps have far too much power, it is necessary to connect pressure reducers to the pump outlet. 
If the pump is only dispersing water for the Tropf-Blumat-System, it can also be controlled by a timer. However, a timer must allow at least 6-8 watering times per day of 40 minutes each. This is important to prevent a longer break in supply during which the sensor is gradually emptied, especially in periods of heat.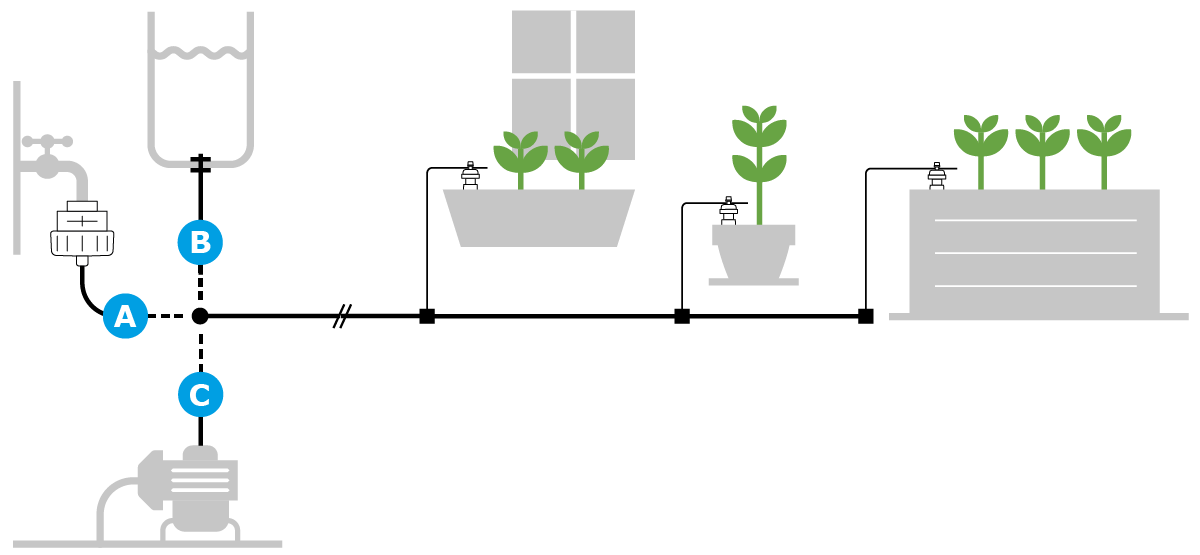 Placing drippers and installing hoses
Not nearly as difficult as it may first appear!
Rule of thumb: every still growing plant in a bed or every pot up to 20 cm in diameter requires 1 Tropf-Blumat, larger plants in a bed need 2-3 Tropf-Blumats or drippers. (Also see Distributor Dripper)  
Rules for Large Planters or larger sized plants in a bed:
| Ø Planter | Tropf-Blumat |
| --- | --- |
| 25 – 30 cm | 1-2 * |
| 35 – 40 cm | 2-3 * |
| 45 – 50 cm | 3-4 * |
* the size of the plant and its individual needs are important criteria when choosing the number of Tropf-Blumat 
* for planters larger than Ø 30 cm: it is advisable to use the Tropf-Blumat Maxi, because it irrigates more intensively.
Rules for Balcony Box Planters (box width of 15-20 cm):
| Box length | Tropf-Blumat |
| --- | --- |
| 100 cm | 4-5 * |
| 80 cm | 3-4 * |
| 60 cm | 2-3 * |
* for very permeable substrates, it is advisable to use the higher number of Tropf-Blumats.
When laying the hoses, the 8 mm supply hose is first laid out along the stretch of plants requiring irrigation, maximum length approx. 60-70 m. A hidden installation is often desirable; however, the hose should not be installed too far from the object to be watered, necessitating overly long 3-mm tubing – maximum approx. 1 m, shorter is better. The reason: long drip tubing become more easily clogged or they can be outwardly damaged (animal bites). Alternatively, the supply hose can be installed alongside the plants, including the hose branches, in this way only about 20-40 cm of drip tubing for the connection to the Tropf-Blumat is necessary. (see sketch) 
Connections: the standard installation assumes that each Tropf-Blumat is connected with a 'T-piece' (8-3-8 mm) – cut the supply hose, insert T-piece. The drip tubing leads from this connection to the Tropf-Blumat. In order to avoid too many drip tubes leading away from the connection, up to approx. 6-7 Tropf-Blumats can be connected to a T-piece, for example, if the drip tubing is subsequently branched in the pot using 'mini branches' (3-3-3 mm).
If the system is supplied over an elevated tank, especially one with low pressure, then too many branches in the supply hose, and especially in the drip tubing, should absolutely be avoided. In this case, the standard installation is preferable.
Planning example
Five balcony boxes with a length of 100 cm and 80 cm and a possible width of up to 25 cm are selected as a standard plant. In the example, the row of boxes runs across the corner, the distance between the boxes is assumed to be approx. 50 cm. A certain installation or fastening of the boxes is not intended here. This example can apply to many balcony or terrace situations.
The descriptions in the example are currently only in German
Note
Our complete sets are well suited as an introduction to Tropf-Blumat. You can then easily expand these later. All drippers, hoses or other accessories can be purchased individually.